Demographic & Economic Information
Information about population and economic statistics are called demographics . The population in Kansas was 2,853,118 as recorded by the 2010 Census . This was an increase of 6.1% since 2000. Many ethnic groups have settled in Kansas throughout its history. These include Native Americans, Europeans, African-Americans, Mexicans, other Hispanics and Asians. The culture and heritage of these ethnic groups have been important factors in the development of Kansas. For example, the German Mennonites who emigrated from Russia introduced turkey red wheat as a crop, and it became the state's largest agricultural product. Many towns throughout Kansas today are still identified with a particular ethnic group and carry on the heritage of their founders.
In the early history of the state, agriculture was the primary industry. Most people lived on farms or in small towns. Prior to 1950, the majority population of Kansas was still rural. By 1990, 69% of Kansans lived in urban areas. Today, almost half of the population lives in the three largest metropolitan areas of Kansas City, Wichita and Topeka. While Kansas remains among the top wheat producing states in the country, livestock and dairy products are the largest source of income for farmers. Other major agricultural products include sorghum grain, corn and soybeans. Although other industries have surpassed agriculture in their contribution to the state's gross revenues, over 90% of the land in Kansas is still devoted to agriculture.
With improvements and developments in technology, other industries such as manufacturing have surpassed agriculture as the largest industries and employers in the state. Transportation is the state's largest manufacturing industry. This includes airplane, automobile and railroad equipment and parts. Other leading manufacturing industries are food processing, chemicals, industrial machinery, rubber and plastic products, electrical equipment, paper products and clothing. Wholesale and retail trade are the next largest types of businesses in the state. Health Care, Construction, Professional Services, Transportation and Mining are also leading industries in the state.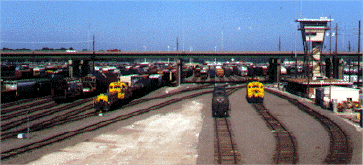 The railroad industry plays a major role in the Kansas economy. It provides transportation for goods and services as well as jobs for railroad employees and the manufacture of railroad equipment and parts.

Additional Resources

Study Guide Questions
How has the population distribution changed in Kansas since 1950?
What are the major agricultural products in Kansas today?
What are the major industries and employers in Kansas today? What are the top industries in your part of the state?
What ethnic groups settled in your part of the state? How have they influenced the culture where you live?