Many of the Plains Indians in western Kansas resisted being moved from their native lands. They fought those efforts from 1863 to 1878 as Indian Wars were waged throughout the Great Plains during these years. Kansas army forts and their troops, including the all-black Buffalo Soldiers, played a major role in defending the settlers from the Plains Indians during this time.

In 1874, a band of Cheyenne Indians killed six surveyors in Meade County in what became known as the Lone Tree Massacre. During that summer, Indians killed 26 settlers along the Arkansas, Saline and Smoky Rivers.

The last Indian battle in Kansas occurred in September, 1878 at Oberlin in Decatur County between the 19th Infantry and the Cheyenne. The Indians were fleeing from the Indian Territory in Oklahoma to their tribal lands in the Dakotas. The 19th Infantry commander, Lt. Colonel William Lewis, was killed. The Indians continued north and killed 19 settlers before crossing into Nebraska. They were eventually tracked down and captured by the U.S. Army in Nebraska.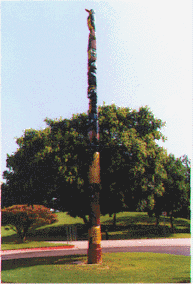 Indian Totem Pole outside the MidAmerica All Indian Center in Wichita